Strawberry Ricotta and Vanilla Sugar in Phyllo Squares
These delicate desserts are so elegant, ricotta cheese gives the smooth, creamy and light taste and texture, fresh strawberries let the flavor so refreshing and the vanilla sugar adds some nice zing along with some finely grated chocolate pieces on top.
Directions
Preheat oven to 350℉ (180℃). Coat a baking sheet with cooking spray or grease with butter.
On the baking sheet, butter or spray with cooking spray each layer of phyllo dough, sprinkle vanilla sugar between each buttered layer.
Cut phyllo dough into 9 squares. Bake 15 minutes or until golden brown, set aside. Gently fold ricotta, powder sugar and vanilla in a small bowl.
To serve:
Place 1 tablespoon ricotta mixture onto each square. Arrange and press strawberry slices into ricotta. Dust with powder sugar and garnish with grated chocolate. Serve.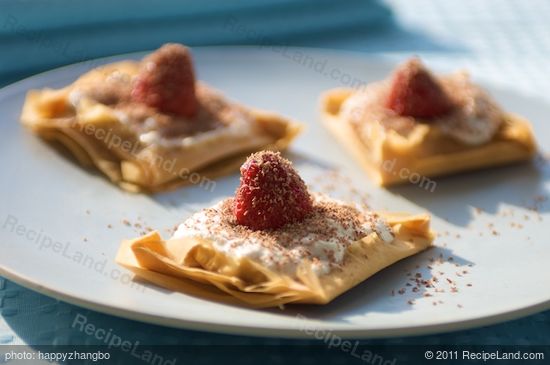 Nutrition Facts
Serving Size
8g
(0.3 oz)
Amount per Serving
Calories
14
58% of calories from fat
Trans Fat 0g
Sugars g
Vitamin A 1%
•
Vitamin C 0%