Steak Strips and Onions
An easy main dish that turns cost-effective strips of beef and onions into a tasty weeknight meal that's packed with flavor.
Metric
Directions
Trim excess fat from meat. Cut meat in thin strips.
Combine flour with salt, pepper, paprika and mustard. Toss meat with seasoned flour.
Melt ⅓ of the butter in large heavy skillet. Add garlic; sauté until golden. Remove; set aside.
Melt ⅓ more butter. Sauté onions for 5 to 6 minutes. Remove; set aside. Heat remaining butter.
Sauté meat strips until browned; add the beef stock, onions and garlic. Stir to dissolve browned bits in bottom of skillet.
Simmer, uncovered, 10 to 15 minutes, until meat is tender and mixture is thickened, stirring occasionally.
Add tomato ketchup or paste, worcestershire sauce and sour cream. Heat gently. Serve over egg noodles or rice.
Sprinkle top with chives or parsley and a good dose of fresh ground black pepper, if desired.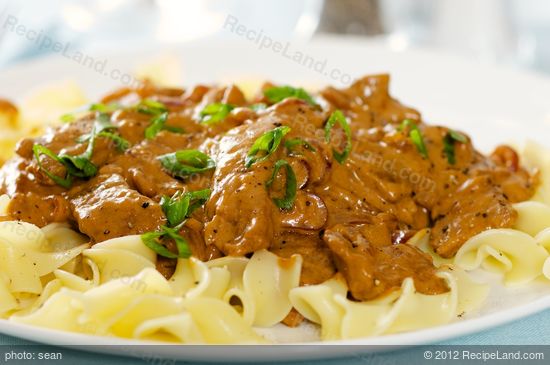 Notes:
Always stir sour cream into a hot sauce or soup just before serving. Heat it gently and only until the mixture is warmed through.
Allowing the mixture to boil will cause curdling. Milk products won't separate as easily in flour-based mixtures.
This dish comes together rather quickly, and is so good! Beef strips simmer in a richly flavored sauce.
Serve it with rice or warm, crusty French bread to take advantage of the super yummy sauce