Shrimp and Lentil Soup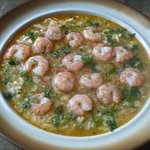 a bit spicy soup.. I found a combination of lentil and shrimp in Sri Lanka's cuisine, however I never found any recipe, and I tried my way..
Metric
Directions
1 - Prepare shrimps. Toss shells, heads, and tails into a small pot, pour in 300 ml of water, add parsley stems and tamarind pulp, simmer for 15 minutes. Start cooking rice or noodles. 2 - Find a medium pot. Pour in 300 ml of water. Rinse lentil under running water, add lentil to this pot together with shrimp paste, coriander, garlic and pepperoni. Sprinkle some salt. Simmer for about 15 minutes. 3 - Strain shrimp stock when ready, and pour it into a pot with lentil. Add water to 600 ml if needed. Add tarragon, and simmer for 10 to 15 minutes. 4 - At the end of cooking fry shrimps in sunflower oil for ca. 2 minutes. 5 - Take your beautiful plates or bowls, put in some rice or noodles, pour in a portion of the soup, and top with shrimps fresh from the skillet. Garnish with fresh parsley leaves, cilantro leaves and lemon slices if you got them.