Oatmeal Banana and Walnut Bread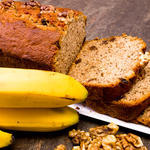 Oatmeal Banana and Walnut Bread recipe
Metric
Directions
Preheat oven to 350℉ (180℃).
Lightly coat a 9x5 inch loaf pan with cooking spray or greased with butter.
In a large bowl with an electric mixer, cream together butter and sugar until light and fluffy.
Beat in the eggs one at a time, beating well with each addition, then beat in the banana and vanilla.
In another bowl, sift together flour, baking soda and salt.
Beat into creamed mixture.
Stir in oats and nuts. Pour into prepared loaf pan.
Sprinkle more nuts on top if desired.
Bake for about 55 minutes, or until a toothpick or wooden stick inserted into the center of the loaf comes out clean.
Cool in the pan on a wire rack for at least 15 minutes before slicing.
Note: You can always add 1/2 cup raisins or dried cranberries to your banana bread batter.