Mary's Fudgey Brownies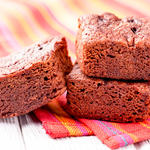 Fudgey Brownies recipe
Metric
Directions
Melt chocolate with butter in saucepan over very low heat; stirring constantly until smooth.
Remove from heat.
Mix flour, salt and baking powder.
Beat eggs thoroughly.
Gradually beat in sugar.
Blend in chocolate mixture and vanilla.
Add flour mixture; stir well.
Stir in nuts. Spread in greased 8 inch square pan.
Bake at 350℉ (180℃) F for 25 minutes (moist chewy brownies) or about 30 minutes (cake like brownies).
Cool in pan, cut into squares or bars.
Note: Recipe may be doubled. Bake in greased 13"x9" pan for 25 to 30 min.