Libby's Famous Pumpkin Pie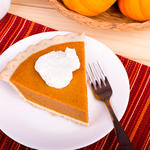 Libby's Famous Pumpkin Pie recipe
Metric
Directions
Prepare pie shell.
Preheat oven to 425 degrees F. Beat eggs lightly in large bowl.
Stir in remaining ingredients in order given.
Pour into pie shell.
Bake for 15 minutes at 425 degrees F.
Reduce temperature to 350℉ (180℃).; bake for 40 to 50 minutes or until knife inserted in center comes out clean.
Cool on wire rack.
Top with Reddi-wip.