Impossible Garden Vegetable Pie
Made this impossible garden vegetable pie for lunch today , and it was cheesy and delicious. I browned the onions first for about 5 minutes, put the broccoli and bell peppers into the pan, and cooked for another 2 minutes to develop more flavors. Then followed the recipe, and it came out golden-brown on the top, very moist and tasty.
Directions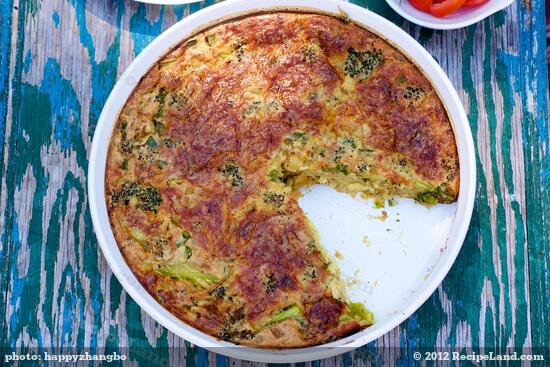 Preheat oven to 400℉ (200℃).
Lightly grease pie plate, 10x1½ inches. Cook broccoli until almost tender; drain thoroughly.
Mix broccoli, onion, green pepper in pie plate.
Beat remaining ingredients 15 sec in blender or 1 minute with hand beater or until smooth.
Pour in pie plate. Bake until golden brown and knife inserted in centre comes out clean; approx. 35 to 40 minutes.
Let stand 5 minutes before cutting.
Garnish with tomato slices and parsley.
Nutrition Facts
Serving Size
117g
(4.1 oz)
Amount per Serving
Calories
117
58% of calories from fat
Trans Fat 0g
Sugars g
Vitamin A 18%
•
Vitamin C 41%