Garlic Scape Pesto
Turn farmer's market garlic scapes into a fresh & brightly flavored green pesto. An early summer seasonal treat.
Metric
Directions
Add the garlic scapes into a food processor and process until finely chopped; about 30 seconds. Add the toasted pine nuts (see money saving tip below) and pulse/process about 12 times for 5 seconds each. Use a spatula to scrape down the sides as needed.

With the food processor running, drizzle in the extra-virgin olive oil and continue processing until you reach the desired texture; about one or two minutes.

Add the lemon juice, parmesan cheese, and basil leaves; process to thoroughly incorporate. Taste and adjust seasoning, adding extra lemon juice, salt, and fresh ground black pepper as needed.
How to prepare garlic scapes
Trim off the fibrous top, just above the bulbous part and trim off about ⅓ inch or ½ cm of the bottom; see photo. Slice the trimmed garlic scapes into 1 inch (2 cm) pieces.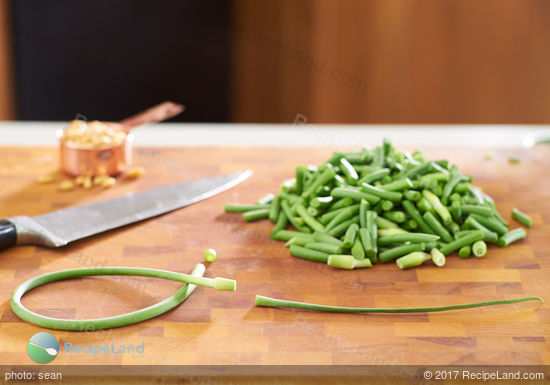 Test the assertiveness of your garlic scapes
We recommend tasting one of your garlic scapes to judge how strong it is before making the pesto. Usually, garlic scapes are reasonably mild, but your batch might pack a wallop.
To temper their assertiveness; place the trimmed scapes into a colander and pour boiling water slowly over them. This will help to mellow the flavor of the final product.
Save money by using sunflower seeds
Pine nuts are quite expensive. You can achieve a similar result by using sunflower seeds to replace the pine nuts in the recipe. Your guests won't notice much of a difference in taste and your pocketbook will thank you!
Basil substitutions
Don't have basil? Use roquette (arugula) instead. The arugula matches the assertiveness of the garlic scapes quite well.