Easy Peach Cobbler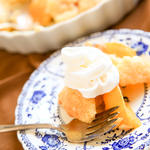 This peach cobbler comes together in a snap and uses ingredients that you probably already have in your pantry.
Metric
Directions
Preheat oven to 375℉ (190℃).
Cream butter or margarine and sugar.
Add milk, flour, and baking powder. Set aside.
If using fresh peaches, peel and slice.
Sweeten lightly with a bit of sugar. Place in baking dish.
Spoon batter over fruit ad bake for 30 minutes.