Double-Cheese Rigatoni with Sausage and Hot Cherry Peppers For Two
Modified from a fine cooking recipe for a more reasonable serving size, a cheesy Italian baked pasta dish that's satisfying and filling for two.
Directions
Bring a large pot of salted water to the boil for the pasta. Lightly grease a 1½ quart gratin baking dish with a bit of olive oil.
Add the rigatoni (or substitute penne or ziti) to the boiling water and cook until al dente, tender but still firm to the tooth, about 12 minutes. Drain well and return to the cooking pot (off heat).
While the pasta is cooking, heat 1 tablespoon of olive oil over medium to medium-high heat in a saucier pan or large skillet.
Once hot add the sausage, allow to cook for a minute and then stir to break it up into pieces with a wooden spoon or nylon turner.
Continue to cook until beginning to brown, about 3 minutes. Transfer to a plate with a slotted spoon and set aside.
Add the garlic, season with salt and cook stirring until fragrant, about 30 seconds.
Add the tomatoes with juices and cook at a rapid simmer, stirring regularly to break up the tomatoes, for about 5 minutes until the sauce begins to thicken slightly.
Meanwhile, adjust oven rack to the middle upper position and pre-heat the broiler.
Add the cooked sausage (with juices if any), the diced hot cherry peppers and 2 tablespoons of Parmesan cheese to the sauce.
Stir and cook until the sausage is cooked through, about 3 to 5 minutes.
Taste and adjust seasoning with salt and fresh ground black pepper.
Add the pasta to the sauce, toss together and transfer to the prepared baking dish.
Sprinkle with the mozzarella and remaining Parmesan cheese.
Broil until the cheese melts and begins to brown in spots, about 2 minutes (watch it constantly).
Serve immediately sprinkled with some reserved grated Parmesan cheese.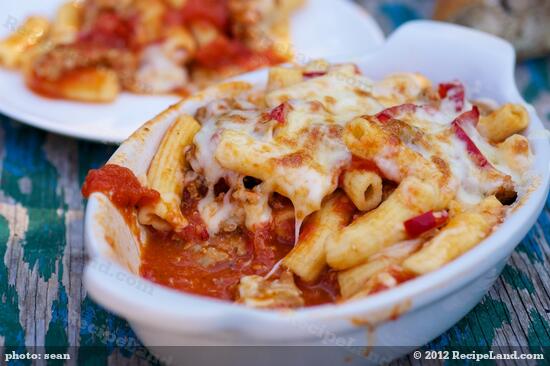 Nutrition Facts
Serving Size
352g
(12.4 oz)
Amount per Serving
Calories
620
61% of calories from fat
Trans Fat 0g
Sugars g
Vitamin A 32%
•
Vitamin C 34%