Biscotti with Pistachios and Lemon
Use whole raw pistachios to mix in the dough, and the lemon flavor from the lemon zest and juice adds extra great taste to biscotti, a cup of tea or coffee with a couple of biscotti.
Directions
Position rack in the center of the oven, preheat to 350℉ (180℃) F. Line two baking sheets with parchment papper. Sift together flour, baking soda, baking powder and salt in a large bowl.
Beat brown sugar, eggs, vanilla and lemon zest with electric mixer for 5 minutes, or until tripled in volume. Beat in flour mixture. Stir in lemon juice, then whole pistachios. Shape dough into 2 12 by 2½ inches logs on a lightly floured working surface.
Transfer two logs to one of the prepared baking sheets, and bake 20 to 25 minutes, or until golden. Cool for 15 minutes.
Reduce oven temperature to 325F degree. Switch the oven racks to the upper and lower thirds of the oven.
Slice the logs on the diagonal into cookies ⅓ inch thick with serrated knife. Bake another 10 minutes.
Turn the biscotti over and rotate the pans from top to bottom; bake until dry, about 10 minutes more, or until golden brown on both sides. Cool on wire rack. Storage in an air-tight container.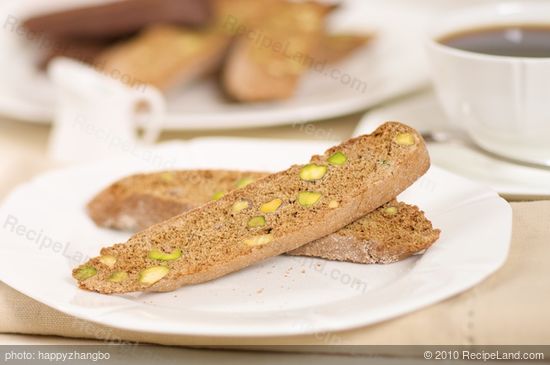 Nutrition Facts
Serving Size
19g
(0.7 oz)
Amount per Serving
Calories
66
32% of calories from fat
Trans Fat 0g
Sugars g
Vitamin A 1%
•
Vitamin C 1%