Basil Goat Cheese Crostini
In Italian, "crostini" means "little toasts." Crostini are made by slicing a French or Italian bread stick or baguette. Then rubbing with garlic and olive oil and toasting or grilling until crisp. The crostini may be drizzled with olive oil and salt and served plain, or they may be dressed with a variety of toppings and popped into the oven or broiler until warm.
Directions
Preheat oven to 400℉ (200℃).
Mix the olive oil and garlic in a small bowl.
Slice the bread into ½ inch thick rounds.
Brush both sides of the bread with the olive oil garlic mixture and place on a baking sheet.
Bake until crispy. About 5 minutes.
Meanwhile in a small bowl mix the remaining ingredients.
Remove the bread from the oven. Divide the goat cheese mixture between each crostini evenly.
Return to the oven and bake until the cheese is bubbly.
Remove from the oven and serve warm.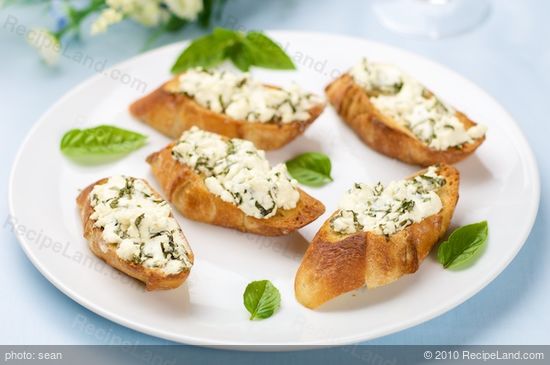 ---
---