Asparagus with Mushrooms and Fresh Coriander
Only a few minutes, asparagus came out tender but still crispy, nicely browned mushrooms were great with asparagus, also before I took it out of the pan, I drizzled 1 or 2 tablespoons white wine to get all the brown bits at the bottom. Absolutely delicious, and will definitely make this recipe again.
Directions
Trim off tough part of asparagus stalk, about 2 to 3 inches from bottom.
Use a vegetable peeler to scrap asgaragus to about 1 inch from top.
Cut asparagus on diagonal into 1 inch pieces.
Melt butter in a non stick frying pan.
Add mushrooms and cook over high heat, tossing and shaking, until mushrooms are lightly browned.
Add asparagus. Cook, stirring and tossing for about 1 minute.
Add shallots, salt and pepper.
Sprinkle with coriander. Cook for 30 seconds.
Serve warm.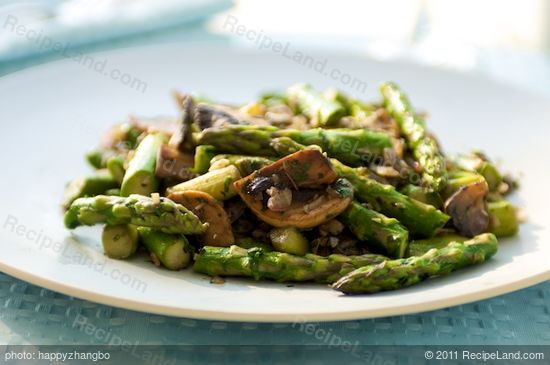 Nutrition Facts
Serving Size
122g
(4.3 oz)
Amount per Serving
Calories
62
58% of calories from fat
Trans Fat 0g
Sugars g
Vitamin A 15%
•
Vitamin C 9%