Apple Jelly
Great recipe, measurements worked out perfectly. Used the resulting jelly with Apple stuffed pork chops (linked below). The sweet slightly tart would work great with some spice, perhaps red pepper flakes added for a sweet-spicy kick.
Directions
To prepare juice:
Select about one-fourth firm-ripe and three-fourths fully ripe tart apples. Sort, wash, and remove stem and blossom ends; do not pare or core.
Cut apples into small pieces. Add water, cover and bring to boil on high heat.
Reduce heat and simmer for 20 to 25 minutes, or until apples are soft. Extract juice.
To make jelly:
Measure apple juice into a kettle.
Add lemon juice and sugar, stir well.
Boil over high heat to 8 degrees above the boiling point of water, or until jelly mixture sheets from a spoon.
Remove from heat, skim off foam quickly.
Pour jelly immediately into sterilized hot containers and seal.
Makes 3 to 4 8-ounce glasses.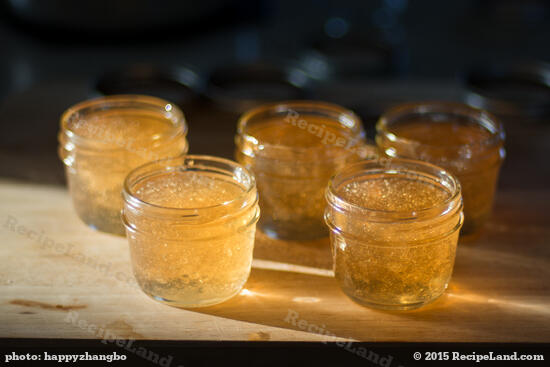 Nutrition Facts
Serving Size
101g
(3.6 oz)
Amount per Serving
Calories
174
0% of calories from fat
Trans Fat 0g
Total Carbohydrate
15
g
15%
Sugars g
Vitamin A 0%
•
Vitamin C 44%