Vanilla extract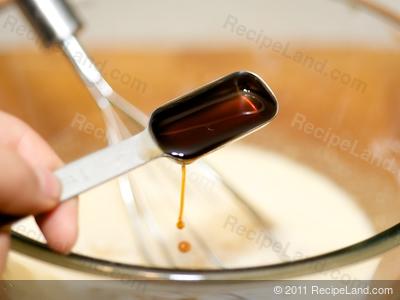 Detailed information about the ingredient vanilla extract. Vanilla extract is usually found in the baking supplies section or aisle of the grocery store or supermarket.
| | | |
| --- | --- | --- |
| In Chinese: | ???? | |
| British (UK) term: | vanilla essence | |
| en français: | extrait de vanille | |
| en español: | extracto de vainilla | |
Description
Vanilla extract is a solution containing the flavor compound vanillin. Pure vanilla extract is made by macerating/percolating vanilla beans in a solution of ethyl alcohol and water.

Vanilla extract is the most common form of vanilla used today. Natural vanilla flavoring is derived from real vanilla beans with little to no alcohol.
The maximum amount that is usually found is only 2%-3%. Imitation vanilla extract is usually made by soaking alcohol into wood, which contains vanillin. Vanillin is chemically treated to mimic the taste of vanilla.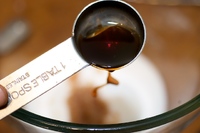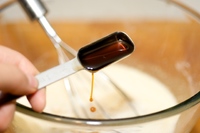 Nutrition
To change serving size or for more detail on vanilla extract visit the complete nutritional analysis of vanilla extract.
Nutrition Facts
Serving Size 1 cup (208g)
Amount per Serving
Calories
599
Calories from Fat 1
Trans Fat ~
Total Carbohydrate
26.3g
9%
Sugars 26.3
Protein 0.1g
Vitamin A 0%
•
Vitamin C 0%
* Percent Daily Values are based on a 2,000 calorie diet. Your daily values may be higher or lower depending on your caloric needs.
How much does vanilla extract weigh?
food weight and complete nutritional analysis of vanilla extract to determine the weight of any amount of vanilla extract in the meantime.
Recipes that contain vanilla extract
There are 8606 recipes that contain this ingredient.