Tom's Peanut Butter Cookies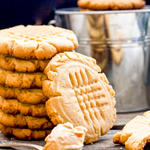 A true, decadent peanut butter cookie that will have you addicted!
Metric
Directions
Stir together flour, soda, and salt. In a mixer bowl beat butter for 30 seconds. Add peanut butter and sugars; beat until fluffy.
Add egg and vanilla; beat well. Add dry ingredients to beaten mixture; beat until well combined.
Shape dough into 1 inch balls; roll in granulated sugar, if desired.
Place 2 inches apart on an ungreased cookie sheet; crisscross with the tines of a fork. Bake at 375 for 9 to 10 minutes .
Cool about 1 minute before removing to a wire rack.
Makes 48. For an alternative, do not crisscross with a fork.
Simply cook as directed. Upon removing cookies from the oven, place a chocolate candy Kiss in the center of each cookie, unwrappped of course. Press slightly and cool completely.
You can wrap cookie dough into a 1 inch ball around a candy kiss and cook as directed.
This gives you a cookie with a chocolate center. This is also another great alternative.