Rich Banana Sour Cream Bread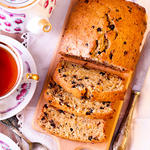 This bread was wonderful. I did change a few things. For half a recipe I used 1 cup of sugar, 4 banana,s, and 1 cup of chopped nuts. I also baked it at 350 and it took approx. a little over an hour. I tested it with a tooth pick. DON'T OVER BAKE!!
Metric
Directions
Preheat oven to 300℉ (150℃) (150 degrees C).
Grease four 7x3 inch loaf pans.
In a small bowl, stir together ¼ cup white sugar and 1 teaspoon cinnamon.
Dust pans lightly with cinnamon and sugar mixture.
In a large bowl, cream butter and 3 cups sugar.
Mix in eggs, mashed bananas, sour cream, vanilla and cinnamon.
Mix in salt, baking soda and flour. Stir in nuts or chocolate chips if using. Divide into prepared pans.
Bake for 1 hour, until a toothpick inserted in center comes out clean.