Quinoa, Spinach and Hazelnuts Stuffed Peppers
Toasted quinoa, sauteed spinach, hazelnuts and sun-dried tomato are tossed with salty feta cheese and extra-virgin olive oil, then stuffed into colorful sweet bell peppers. Not only look divine, but they also taste delicious.
Directions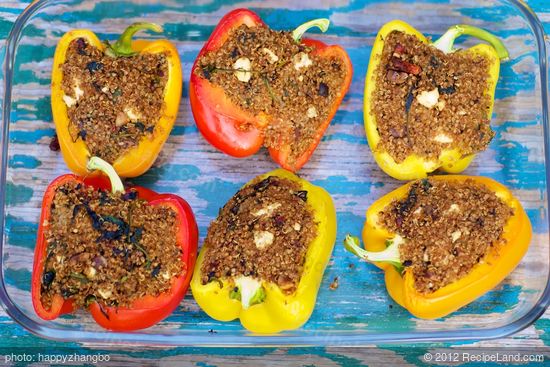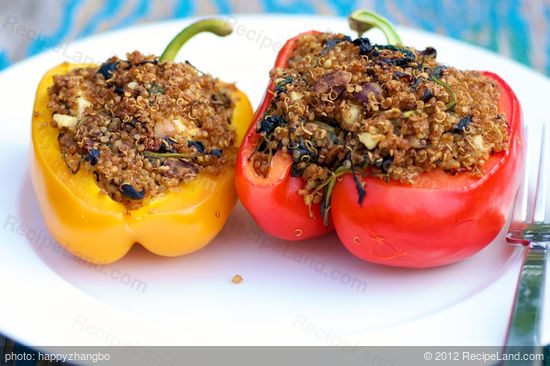 Add the rinsed quinoa in a medium nonstick skillet over medium or medium-high heat. Toast the quinoa until golden, brown and aromatic, stirring often, about 8 minutes.
Transfer the toasted quinoa into a medium saucepan with 2 cups of stock or broth or water. Cover and bring to a boil over high heat, reduce the heat to low, and let simmer for 15 minutes.
Off the heat and let sit for another 5 minutes with the lid on. Fluff with a fork. Transfer to a large mixing bowl.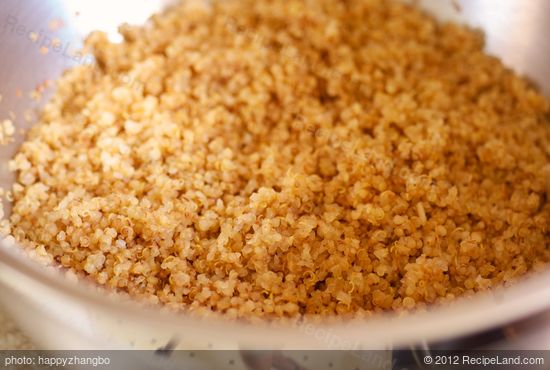 Meanwhile, in a large nonstick skillet, heat 1 tablespoon olive oil over medium-high heat until hot. Add the red onions, stirring often, and cook until the onions are browned and soft, about 6 minutes.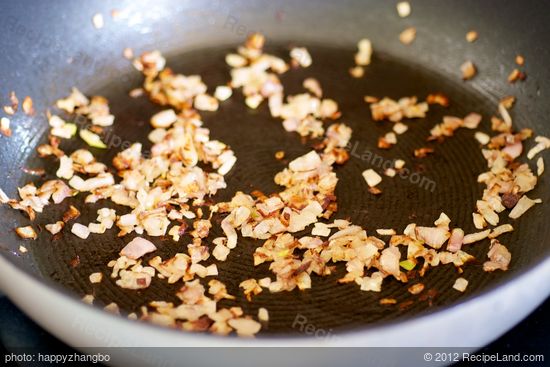 Add the cumin and hazelnuts, stirring frequently, and toast the nuts for about 3 minutes until slightly browned.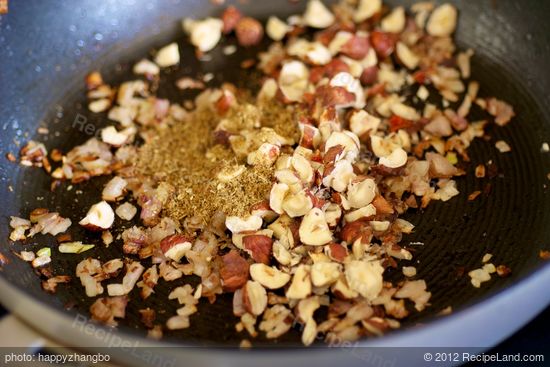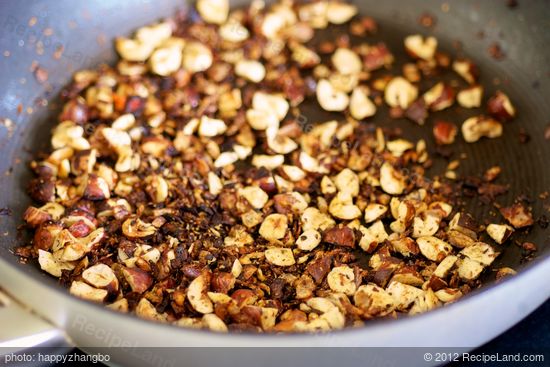 Stir in the sun-dried tomatoes, and cook for about 1 minute.
Add spinach, stirring often, and cook for 3 to 5 minutes until the spinach leaves are all wilted. Stir in the garlic, and cook for another 2 minutes until cooked through.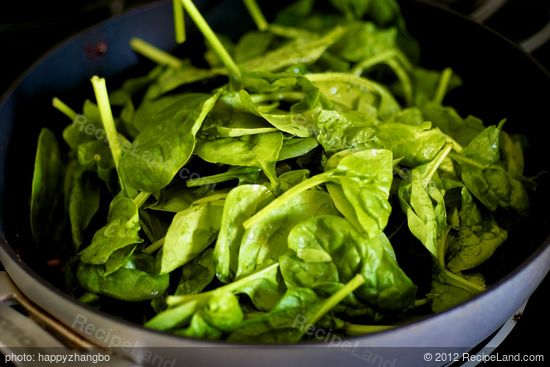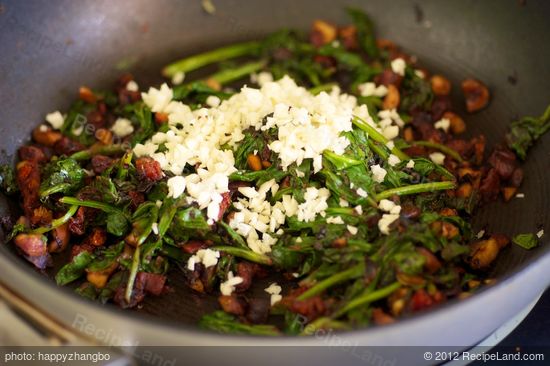 Transfer the spinach-hazelnut mixture into the large mixing bowl with the cooked quinoa. Add the feta cheese, 2 tablespoons extra-virgin olive oil, and stir until well combined. Season to taste with salt and black pepper.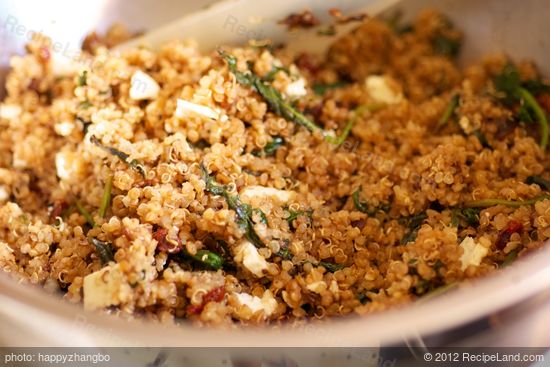 Preheat the oven to 350℉ (180℃).
While the vegetables are cooking, half the bell peppers and remove the seeds.
Rub the outside of bell peppers with a bit olive oil, brush inside with more oil. Season both sides with salt and black pepper. Place prepared bell peppers into a large casserole dish coated with cooking spray.
Spoon each halved bell pepper with about ¼ to ⅓ cup of mixture, depending on how big your peppers are.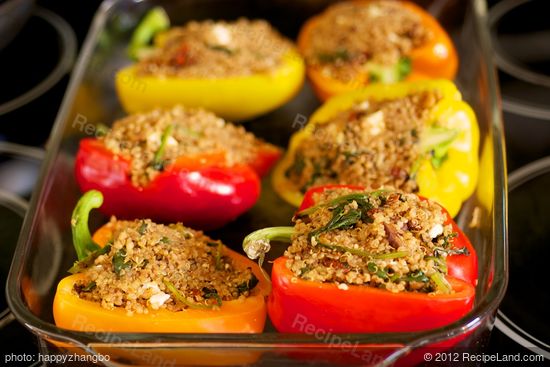 Bake in the oven for 35 to 45 minutes, or until the tops are browned and the peppers are cooked.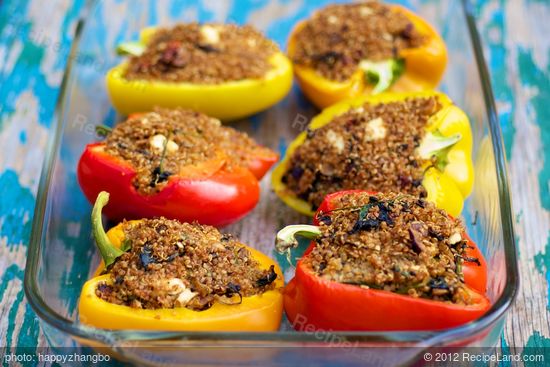 Remove from the oven, and let sit for about 5 minutes. Serve warm with a mixed green salad if desired.
Note:
Toasting quinoa in pan really develops tons of deliciousness from quinoa. But if you don't have enough time, just boil the quinoa directly with broth or water, it will be still tasty.
Nutrition Facts
Serving Size
481g
(17.0 oz)
Amount per Serving
Calories
435
44% of calories from fat
Trans Fat 0g
Total Carbohydrate
18
g
18%
Sugars g
Vitamin A 18%
•
Vitamin C 584%