Mom's Cream of Broccoli and Pea Soup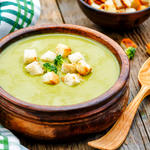 Cream of Broccoli and Pea Soup recipe
Metric
Directions
Simmer the broccoli and half the onion in the water or stock for 15 minutes or until tender.
Add the peas and simmer 5 minutes longer just to cook through.
As you are simmering, be sure to keep the level of the water constant so that it does not evaporate too much.
When the vegetables are tender, purée the mixture through a food mill or blender.
If you purée it with a food processor or a blender, pass the purée through a sieve to remove any tough bits.
In a clean saucepan heat the butter.
Add the remaining onion and cook for 5 minutes, over low heat or until very tender but not brown.
Add the flour and cook for a few seconds.
Whisk in the strained purée, bring to a boil and simmer for 10 minutes, stirring on occasion to make sure the flour does not stick to the bottom of the saucepan.
Gradually add the half and half or evaporated milk and adjust it to the texture you like.
Bring the liquid to just to under a boil; season to taste with salt and pepper.
Ladle out and garnish with chives if needed, and serve with croutons or bread if you wish.