Master Frittata-Frittata DIY
Directions
Frittata DIY:
For Vegetable and Meat:
Choose 3 or more following ingredients for up to 3 cups:
Asparagus, steamed and cut into 1½-inch pieces
Roasted Red Bell Pepper: Peeled and cut into ¼ inch strips
Chorizo: Cut into small slice and browned
Fresh Mushrooms: Cut into ¼ inch slices and sauteed with garlic if desired
Leeks or Onions: Thinly sliced and sauteed
Pancetta or Bacon: Cut into ¼ inch dice and sauteed
Potatoes: Peeled boiled, and cut into ¼ inch slices.
Spinach, Arugula or Kale: Trimmed, sauteed, drained and chopped
For Cheeses:
Choose 1 or 2 or more for ⅔ cup
Feta, Fotina, Fresh and soft goat cheese, Fresh ricotta, Parmesan, or any your favorite cheese
For Aromatics and Spices:
Choose 2 or more
Crushed red pepper flakes: ¼ ½ teaspoon, or to taste.
Garlic: Minced, 1 teaspoon, sauteed, or to taste.
lemon Zest: Finely grated, 1 teaspoon
Scallions: Thinly sliced, ¼ cup, sauteed
Paprika or Smoked Paprika: ½ teaspoo
Fresh Herbs:
Choose 2 or more for ¼ cup
Basil, Chives, Dill, Marjoram, Mint, Parsley
To make the frittata:
Arrange a rack in the center of the oven and preheat to 350℉ (180℃).
In a bowl, lightly whisk the eggs with your milk, the flour, about 1 teaspoon salt, and several grinds of pepper. If you are going to use salted cheeses, then reduce the amount of salt to ½ teaspoon now.
Combine your favorite ingredients from the lists with the egg mixture, folding them gently.
Allow any cooked ingredients to cool a bit before you add them to the eggs. Don't overcook them.
Heat the oil in an ovenproof 10-inch nonstick skillet over medium heat.
Wen the oil is hot, add the egg mixture, spreading everything evenly.
Reduce the heat to medium-low, cover and cook about 10 minutes, reduce the heat to low, go on cooking until the eggs are set about 1-inch in from the sides of the pan, another 15 to 20 minutes.
Uncover the pan and continue cooking frittata in the oven until the top is puffed and completely set, about 15 to 20 minutes.
Remove the pan from the oven, let cool for about 5 minutes.
Run a rubber spatula around the sides of the pan to loosen the frittata.
Split it out of the pan and onto a cutting board or a plate.
Cut and serve warm.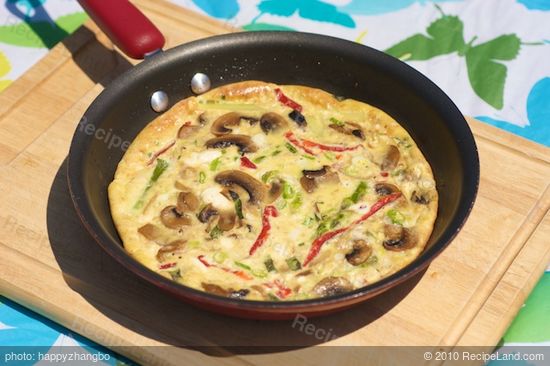 ---
---