Kidney Bean & Barley Chili
Ingredients
Amount
Measure
Ingredient
Features
1
tablespoon
olive oil
or other vegetable oil
3
cloves
garlic
coarsely chopped
2
medium
onions
chopped, 2 medium ones or 1 large one
2
stalks
celery
sliced
*
2
carrots
diced
*
1
cup
mushrooms
sliced, white button or cremini
16
ounces
salsa
2 cups, chunky, homemade or store-bought
16
ounces
tomato sauce
2 cups, homemade or store-bought
2
teaspoons
chili powder
or to taste
1
teaspoon
cumin
or to taste, ground
1
teaspoon
oregano
dried, or 1/2 tablespoon fresh
1
red chili peppers
or green, freshly chopped, or dried flakes to taste, optional
*
1
cup
pearl barley
cooked or instant
15
ounces
kidney beans, canned
1 can, drained and rinsed
salt and black pepper
to taste
*
2
teaspoons
apple cider vinegar

Ingredients
Amount
Measure
Ingredient
Features
15
ml
olive oil
or other vegetable oil
3
cloves
garlic
coarsely chopped
2
each
onions
chopped, 2 medium ones or 1 large one
2
stalks
celery
sliced
*
2
each
carrots
diced
*
237
ml
mushrooms
sliced, white button or cremini
462.4
ml/g
salsa
2 cups, chunky, homemade or store-bought
462.4
ml/g
tomato sauce
2 cups, homemade or store-bought
10
ml
chili powder
or to taste
5
ml
cumin
or to taste, ground
5
ml
oregano
dried, or 1/2 tablespoon fresh
1
each
red chili peppers
or green, freshly chopped, or dried flakes to taste, optional
*
237
ml
pearl barley
cooked or instant
433.5
ml/g
kidney beans, canned
1 can, drained and rinsed
1
x
salt and black pepper
to taste
*
10
ml
apple cider vinegar

Directions
Heat the oil in a dutch oven or a large pot until hot over medium heat. Add the garlic, stirring constantly, and cook the garlic until browned.
Stir in the onion and celery, and cook for about 3 minutes until the onions become softened.
Stir in the carrots and mushrooms, and cook for about 5 minutes, until the vegetables become tender and the moisture from the mushrooms has been evaporated.
Add the chili powder, cumin, oregano leaves and red chili pepper, and mix until well combined.
Cook for another 5 to 8 minutes until most of the liquid is evaporated, the vegetables start to be browned, and the bottom of the pot start to appear brown spots.
Pour in the salsa and tomato sauce, stirring well, and bring to a boil. Lower the heat to medium-low or low and simmer for about 10 minutes, stirring often.
Stir in the barley and beans, and simmer for another 10 to 15 minutes, until heated through.
Season with salt, black pepper and cider vinegar. Serve hot.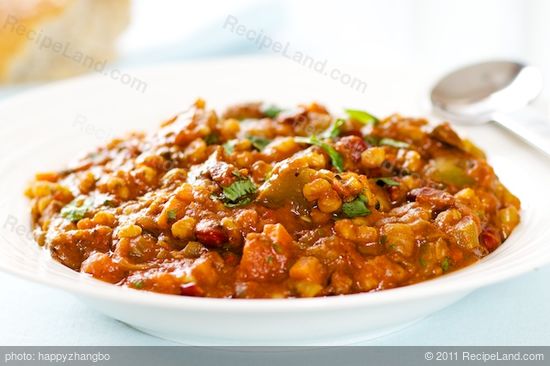 ---
---