Irish Shepherd's Pie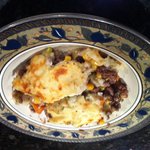 Good basic Shepards Pie. If you use good fresh ingredients you will get good results obviously. It doesn't say to drain the beef fat, but definitely do it. Watch the salt depending on what type of broth you use. Lots of room for experimentation with spices if you feel up to it, but as is everyone in the family enjoyed this comfort food.
Metric
Directions
Cook ground beef in frying pan until brown.
Add onion, carrots, celery, garlic, salt, pepper and nutmeg.
Lower heat and cook for 10 minutes or until vegetables are wilted.
Add beef broth, bring to a boil.
Stir in enough of the butter/flour roux to make a thick gravy to bind the filling.
Pour into large shallow baking pan and cool.
The filling should be about 1½ inches deep.
Cover the meat mixture in the pan with the corn and then top with the hot mashed potatoes.
Smooth potatoes evenly, brush surface with butter.
Bake at 325℉ (160℃) for 35 to 40 minutes.