Cream of Carrot Souo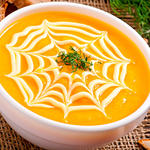 Try it again tomorrow, a great recipe!
Metric
Directions
Sweat the onions with some salt in the butter over low to medium heat until they are soft and translucent.
Do not brown them.
Add the flour and cook for two minutes while constantly stirring.
Add the carrots and cook for two more minutes.
Add the stock, bring to a boil, and then simmer uncovered until the carrots are soft.
Purée the soup in a blender and then work it through a strainer with a ladle or the back of a spoon into a pot.
Bring it back to a simmer and stir in the cream.
Season with salt and pepper.
If the soup is too thick, add more stock.
If it's too thin, continue to simmer until the desired consistency is achieved.
Decorate soup with whatever pattern you like if desired.