Best Pumpkin Chocolate Chip Cookies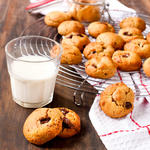 Pumpkin Chocolate Chip Cookies recipe
Metric
Directions
Preheat the oven to 375℉ (190℃) F or 190 degrees cup 2. Place the butter or margarine in a heatproof glass dish.
Cover and microwave on high power for 30 seconds.
In a large bowl, mix together pumpkin, sugar, melted butter.
In a separate bowl, combine the flour, baking powder, baking Add to the pumpkin mixture, and mix until smooth.
Stir in the chocolate chips and, if you wish, nuts.
Drop from a teaspoon onto a lightly greased baking sheet.
Line up about 1½ inches apart.
Bake for ten to 12 minutes, until golden brown.
Cool on baking sheet for two minutes or so. Then remove to a wire rack to finish cooking.