Barbecued Pork Steaks 2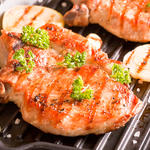 I broiled these in the oven since it's raining outside and too difficult to bbq. Absolutely delicious. Served with rice and a salad and made a HUGE hit.
Metric
Directions
Pound steaks with meat mallet.
For sauce, in a small bowl, combine the remaining ingredients; mix well.
Place steaks on grill about 4 inches above medium-slow coals.
Cook about 8 minutes on each side.
Brush steaks with sauce and continue cooking 5 minutes more, turning and brushing with sauce.