Amazing Asian Glazed Pork Chops
Lean and boneless pan fried pork loin chops cook up in a flash. Glazed with Asian-inspired flavors, this juicy quick & easy pork chop recipe is a quick and easy weeknight family hit!
Directions
Dry roast the sesame seeds in a small skillet over medium heat for about 3 minutes until toasted. Set aside.
In a small bowl or measuring cup, add the rice wine vinegar, orange juice, mirin, ginger, brown sugar and mix well until sugar is dissolved.
Make ½ inch deep cuts about 1 inch apart on the fat/silverskin edge of the pork chops. This will help prevent them from cupping when cooking.
Dry well with paper towels and season with salt and pepper on both sides.
Heat the vegetable oil in a 12-inch (30 cm) skillet over medium-high heat until beginning to smoke.
Add the pork chops and cook until well browned, about 4 minutes (or longer if your chops are thick). Turn and cook another minute. Check the pork internal temperature; if your pork chops are on the thin side, they may already have reached the internal target temperature of 140℉ (60℃) F. If so remove to a plate and tent with foil.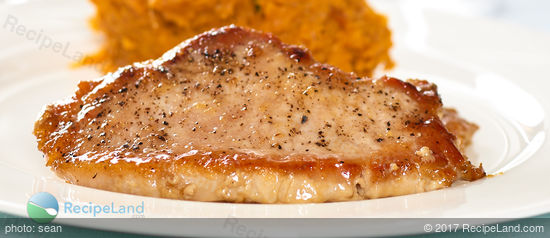 Add the glaze mixture to the skillet, and continue cooking the pork until the internal temperature reaches 140℉ (60℃) F (about 3 of 4 minutes) and transfer the pork chops to a plate, tent with foil and allow them to rest for 5 minutes.
Remove the skillet from the heat.
After resting, add any accumulated juices and reheat the skillet over medium heat. Simmer, whisking constantly, until the glaze is thick and caramel colored, from 2 to 5 minutes.
Return the pork chops to the pan, turning to smother with the glaze and transfer to a platter, browned side up and spread with the remaining glaze.
Serve immediately garnished with some fresh cilantro and sesame seeds.
Secrets to Juicy Pan-fried pork chops
Don't overcook. Cook for internal temperature using an inexpensive food thermometer. Digital food thermometers such as this one can be obtained for less than $10.
For more on perfectly cooking pork chops check out our Guide for cooking Pork.
Nutrition Facts
Serving Size
212g
(7.5 oz)
Amount per Serving
Calories
566
69% of calories from fat
Trans Fat 0g
Sugars g
Vitamin A 0%
•
Vitamin C 8%