Arugula and Strawberry Salad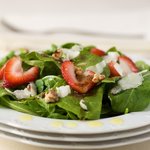 This quick and easy salad is made of fresh arugula, sliced strawberries and tossed with olive oil and balsamic vinegar, sprinkling some shaved Parmesan cheese and toasted walnuts on top before serving.
Metric
Directions
Toast walnuts in a small dry skillet over medium-low heat, stirring frequently, until lightly browned and aromatic, about 5 minutes.
Transfer to a salad bowl, let cool slightly.
Add arugula, strawberries, Parmesan.
Sprinkle vinegar and oil over the salad; toss gently.
Add pepper and salt to taste.
Serve.