Absolutely Deep Dark Chocolate Fudge Cookies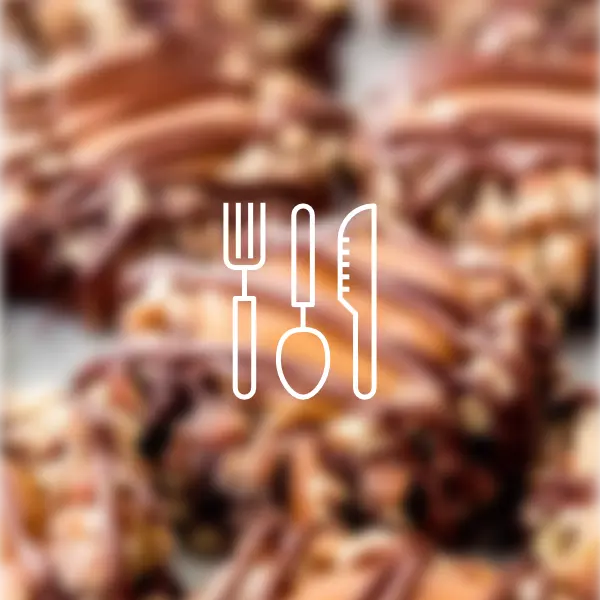 Ingredients
Amount
Measure
Ingredient
Features
½
cup
cocoa powder
unsweetened
1 ½
cup
all-purpose flour

1
teaspoon
baking soda

1
teaspoon
salt

8
ounces
semi-sweet chocolate
baking, semisweet, broken, null, null
4
ounces
unsweetened chocolate
baking, unsweetened, broken
1 ½
cup
sugar
light brown, firmly packed
¾
cup
butter
unsalted
3
large
eggs

1
teaspoon
vanilla extract

18
ounces
chocolate chips
semisweet
To prepare chocolate ganache
1
cup
heavy whipping cream

2
tablespoons
butter
unsalted
2
tablespoons
sugar
granulated
12
ounces
semi-sweet chocolate
baking, semisweet, broken, null, null
Ingredients
Amount
Measure
Ingredient
Features
118
ml
cocoa powder
unsweetened
355
ml
all-purpose flour

5
ml
baking soda

5
ml
salt

231.2
ml/g
semi-sweet chocolate
baking, semisweet, broken, null, null
115.6
ml/g
unsweetened chocolate
baking, unsweetened, broken
355
ml
sugar
light brown, firmly packed
177
ml
butter
unsalted
3
large
eggs

5
ml
vanilla extract

520.2
ml/g
chocolate chips
semisweet
To prepare chocolate ganache:
237
ml
heavy whipping cream

30
ml
butter
unsalted
30
ml
sugar
granulated
346.8
ml/g
semi-sweet chocolate
baking, semisweet, broken, null, null
Directions
To prepare Cookies: Preheat oven to 325℉ (160℃). Sift together cocoa, flour, baking soda and salt onto a sheet of wax paper. Set aside. Heat 1 inch of water in the bottom of a double boiler over medium heat. Place semisweet and unsweetened baking chocolate in top half of the double boiler. Tightly cover the top pan with plastic wrap and heat 12 to 15 minutes. Remove from heat and stir chocolate until smooth. Keep at room temperature.
Place brown sugar and butter in the bowl of electric mixer and beat on medium speed 1 minute. Scrape down bowl and beat on high speed additional 30 seconds. Scrape down bowl. Add eggs, 1 at a time, while beating on medium, stopping to scrape down bowl after incorporating each addition. Add vanilla and beat on medium 30 seconds. Add melted baking chocolate and beat on low 10 seconds more. Scrape down bowl and beat additional 30 seconds. Add flour mixture and beat on low until thoroughly combined, 20 to 30 seconds. Remove bowl from mixer, add chocolate chips and mix thoroughly with rubber spatula.
Using 2 baking sheets, portion 6 to 8 cookies per baking sheet by dropping 2 level tablespoons batter per cookie onto each sheet. Place pans on top and middle shelves of oven. Bake 18 to 22 minutes, rotating sheets from top to bottom about halfway through baking time. Cool cookies on pans 5 to 6 minutes.
Transfer cookies to wire rack. Repeat procedure until all cookies have been baked. Cool cookies thoroughly before storing in sealed plastic container.
To prepare Chocolate Ganache: Heat cream, butter and sugar in medium saucepan over medium-high heat. When hot, stir to dissolve sugar. Bring mixture to boil. Place chocolate in stainless steel bowl and pour boiling cream over chocolate. Let stand 5 minutes. Stir until smooth. Cool to room temperature. (Ganache can be made 3 to 4 days ahead and refrigerated. Reheat, stirring. Bring to room temperature before using.)
Put ganache in a serving bowl, so guests can dip their cookies in before eating. Makes about 2½ cups.
Makes 3 to 2½ dozen cookies.
---
---