Yellow Peppers Stuffed with Quinoa, Corn and Feta Cheese
This is a great dish to serve guests when you really want to impress them. Looks wonderful to the eye, especially using yellow and red peppers for some contrasting colours. And the taste is perfect for summer or any season. Very light and fresh with little bursts of flavors and textures.
Directions
Bring 2 cups water to a boil in a medium saucepan. Stir on ½ teaspoon salt and quinoa.
Reduce to a simmer, cover and cook until the grains are tender and reveal their spiraled germ, about 15 minutes.
Meanwhile, bring a large pot of water to a boil. Cover and reduce heat to a simmer.
Preheat oven to 400℉ (200℃).
Heat 1 tablespoon oil in a wide skillet over medium heat. Add scallions and jalapenos; cook, stiring, until softened, about 2 minutes.
Add garlic, cumin, corn, spinach and 2 tablespoons water and cook, stirring occasionally, until the spinach is wilted, about 1 minute.
Transfer the vegetables to a large bowl. Add the quinoa, cilantro and feta; toss to combine. Seanson with pepper.
Wipe out the skillet, add 1 tablespoon oil and heat over medium-high. Add onions and cook, stirring frequently, until they start to color around the edges, 3 to 5 minutes.
Pour in wine and stir with a wooden spoon, scraping up any bits stuck to the bottom of the pan.
Season with a pinch of salt and pepper and transfer to one large or two medium baking dish es large enough to hold the poeppers.
Slice peppers in half lengthwise without removing the tops or stems; remove the inner membranes and seeds.
Drop the peppers into the simmering water and cook until tender when pierced with the tip of a knife but not overly soft, 4 to 8 minutes.
Transfer to a cutting board with a slotted spoon, fill with the quinoa mixture and place in the baking dish (or dishes). Drizzle the remaining 1 tablespoon oil over the peppers.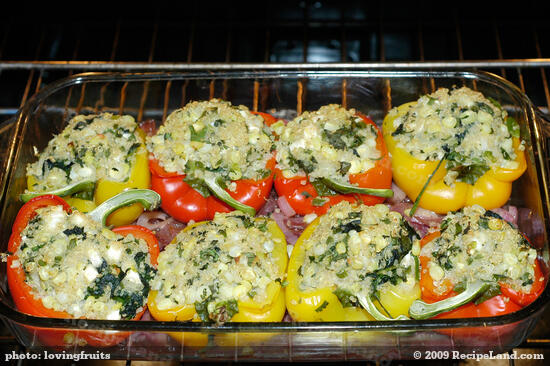 Bake the peppers until heated through, 20 to 30 minutes. Switch heat to broil; cook until tops are browned, about 4 minutes. Serve hot, warm or at room temperature.
Nutrition Facts
Serving Size
447g
(15.8 oz)
Amount per Serving
Calories
465
34% of calories from fat
Trans Fat 0g
Total Carbohydrate
23
g
23%
Sugars g
Vitamin A 24%
•
Vitamin C 594%