Vegetable Pizza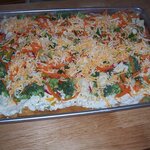 Finger Food
Metric
Ingredients
For the white sauce:
8
ounces

cream cheese


1 container, or 2... doesn't matter

¾
cup

mayonnaise


or as needed

½
cup

sour cream


or as needed

1
teaspoon

basil


dried, or to taste

*

1
teaspoon

oregano


dried, or to taste

1
teaspoon

garlic powder


or to taste

1
x

dill weed


to taste, (is good)

*

1
x

parsley leaves


to taste

*

1
dash

steak seasoning


Montreal, (just a dash though, it gives it a bit of a zing!)

*

For the pizza crust:
2
each

crescent roll dough


2 cans

*

For the topping:
1
x

broccoli florets


as needed

*

1
x

cauliflower florets


as needed

*

1
x

sweet red bell peppers


yellow, green and red, sliced, as needed

*

1
x

radishes


sliced, as needed

*

1
x

scallions, spring or green onions


both green and white ends

*

1
x

carrots


slivers

*

1
x

cheese


what ever you like. I usually use Cheddar

*
Directions
I have 3 or 4 recipes for this and I just kind of mix them up and use them all. One recipe calls for a package of Hidden Valley Ranch dressing but I do not like that so I don't use it.
Some call for 1 cream cheese, some 2. I use what I have at the time.
One recipe calls for Miracle Whip and another calls for Mayonaise. I like the mayo best in this, amounts vary from ½ to 1 Cup. I use my own spices.
I don't really measure I just dump in and mix up. Use your own judgement. The point is I don't think you can mess this up.
Here goes:
Vegetable Pizza:
For the white sauce:
Mix together cream cheese, Mayo, sour cream, basil, oregano, garlic powder, dill, parsley, maybe a dash of Montreal Steak Seasoning (just a dash though, it gives it a bit of a zing!)
Whatever you have that you think will go. I've used many different things.
Mix it all up and put it in the fridge and let the flavors mix well. I leave in over night if I have the time.
For the Pizza Crust:
Take 2 cans of Crescents rolls and mash then out on a large cookie sheet, leaving just a small edge all around.
Bake in 400° oven until browned, about 15 minutes.
Let cool.
Smear the mixture over the crust.
For the topping:
Then add whatever chopped veggies that you like or want.
I usually use: chopped broccoli, chopped cauliflower, chopped green, red and yellow peppers, sliced radishes, chopped green onion, both white and green ends, and some carrot slivers.
Sprinkle shredded cheese over top, what ever you like. I usually use Cheddar.
Put in fridge until time to serve.
Cut in squares.