Tomato and Dill Soup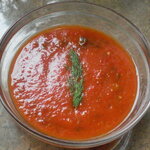 excellent soup, tasteful, medium hot, aromatic.. great flavor of combined cilantro and dill.. fine when chilled.. vegan if vegetable stock is used..
Metric
Directions
Combine all ingredients except dill, cilantro, cumin, cayenne and salt.
Bring to a boil and simmer for 25 minutes.
Let cool slightly, then puree.
Stir in remaining ingredients with some salt and pepper.
Serve warmed or chilled.