Sweet Potato, Zucchini and Tomato Quesadillas
Yum.
Directions
Heat 1 tablespoon of olive oil in a medium size nonstick skillet over medium high heat until hot.
Add the onions, stirring occasionally, and cook for about 5 minutes or until the onions are softened and start to become brown.
Stir in the sweet potatoes, and cook for 4 to 6 minutes or until they start to soften.
Add the zucchini, stirring often, and cook until the zucchini become tender and brightly green, about 4 minutes.
Stir in the tomatoes, and cook for another 2 minutes or until the tomatoes become soft. Season to taste with salt and black pepper.
Meanwhile in a small nonstick skillet, cook the beaten eggs with 1 teaspoon olive oil. Either make scrambled eggs or make an egg pancake, then chop them into small pieces. Remove from the heat and set aside.
Place two flour tortillas onto two plates. Sprinkle one portion of mozzarella cheese onto each of the half tortilla, then sprinkle with a bit pickled jalapeños if needed.
Spoon half the vegetable mixture and half of the cooked eggs on top of the cheese of each half tortilla. Sprinkle remaining each portion of cheese over the veggie mixture. Fold the other half tortilla over to form a quesadilla.
Heat another 1 tablespoon of olive oil in a large nonstick skillet over medium high heat until hot. Carefully transfer two assembled quesadillas into the hot pan.
Cook for about 3 minutes until the bottom layers are golden and brown. Meanwhile preheat the broiler.
Brush the top layers with the remaining ½ tablespoon of olive oil. Place the pan under hot broiler about 5 to 6-inch away from the broiler.
Watch carefully, and broil until the top layers are browned, 1 to 2 minutes, depending on how hot your broiler is and how close the pan is.
Remove from the oven with an oven mitt or a thick kitchen towel, the handle of the pan is hot.
Transfer the quesadillas to a cutting board, and cut each into two or three pieces. Serve warm with salsa and/or sour cream if needed.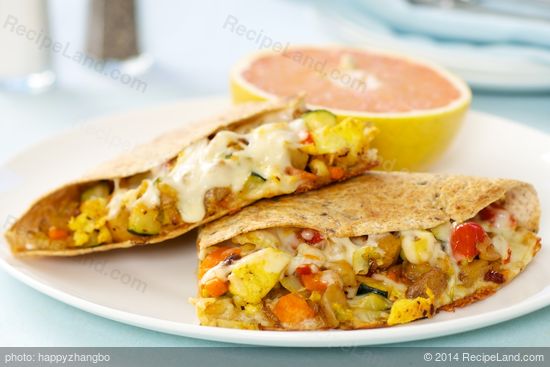 Nutrition Facts
Serving Size
308g
(10.9 oz)
Amount per Serving
Calories
336
58% of calories from fat
Trans Fat 0g
Sugars g
Vitamin A 399%
•
Vitamin C 64%