Summer Watermelon Salad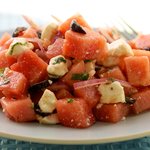 A fresh and tasty combination of salty, juicy and sweet perfect for a hot day, especially served in the watermelon shell.
Metric
Directions
Put the lime juice in a zipper bag or small bowl with the thinly sliced onion and allow to marinate for about 10 minutes.
In a large bowl gently mix together the watermelon cubes, olives, onions and lime juice, mint, feta cheese and olive oil.
Toss very gently to blend.
Serve in the bowl or serve directly out of half of a watermelon shell used as a bowl.