Pumpkin Scones with Two Glaze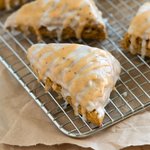 Pumpkin Scones with Two Glaze recipe
Metric
Directions
Center a rack in the middle of the oven and heat oven to 400℉ (200℃) F. Line a large baking sheet or two small baking sheets with parchment paper (you can also spray with non-stick cooking spray if you do not have parchment paper).
Whisk the flour, sugar, baking powder, baking soda, salt, cinnamon, ginger, cloves and nutmeg together until blended.
Cut the butter into small cubes then scatter over the flour mixture. Use two knives or a pastry cutter to "cut" the butter into the flour until the mixture resembled coarse cornmeal with a few pea-sized bits of butter, about 5 minutes.
In a separate bowl, whisk the pumpkin purée, molasses, half and half, egg and vanilla extract until blended. Stir into the flour and butter mixture until a soft dough forms.
Transfer the dough to a floured surface. Knead three to four times until it comes together.
Pat the dough into a 10-inch by 7-inch rectangle (a rolling pin can be used here). Cut the rectangle in half lengthwise then cut into 4 even pieces crosswise, making eight rectangles. Cut each rectangle into two triangles, making 16 scones.
Bake Scones:
Transfer scones to baking sheet(s) then bake 10 to 15 minutes or until golden brown and a toothpick inserted into the middle comes out clean. Transfer to a wire rack and cool completely.
Glaze Scones:
Once scones have cooled, make the glazes.
To make the simple sugar glaze:
Add the sugar to a medium bowl then add one tablespoon of half and half. Stir then judge the consistency. If when you pick a spoon out of the glaze it slowly drizzles back into the glaze, it is fine. If it is too thick, add a little more half and half (a little goes a long way, here). If it is too thin, add a little more powdered sugar.
Dip each cooled scone directly into the glaze then place glazed side up back onto the cooling rack.
For the pumpkin spiced glaze:
Combine the sugar, pumpkin purée, spices then add one tablespoon of half and half. Stir and check consistency. Adjust the same way as you would the simple glaze. Use a spoon to drizzle a zigzag pattern across each scone.