Prefect Grilled Cheese Sandwiches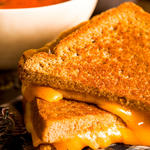 Skip the fake cheese slices and shred real cheese for a perfect gooey and crispy grilled cheese sandwich.
Metric
Directions
Mix together the cheese in a bowl to create the two-cheese blend.
Brush the top of each slice of bread with the melted butter. Brushing melted butter instead of spreading it ensures it is perfectly even.
Turn over 4 of the bread slices and divide the two cheese mixture between the 4 slices, pressing slight with your hand to compact the cheese together. Top with the remaining 4 slices of bread, butter side out.
Heat a large nonstick skillet over medium-low heat for at least 1 minute. Place 2 sandwiches in pan and weight with round cake pan, pressing lightly.
Leave cake pan on top and cook until first side is golden brown, 3 to 5 minutes. Turn over the sandwiches, press again with cake pan, and cook until golden brown, about 2 minutes.
Repeat with remaining 2 sandwiches.
Grilled cheese sandwiches are best cooked two at a time. If you want to keep the first batch hot, place a baking sheet in the oven and heat the oven to 250 degrees. When the first batch is done, slide the sandwiches onto the hot baking sheet to keep them crisp and warm.