Perfection Pecan Pie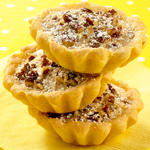 Perfection Pecan Pie recipe
Metric
Directions
Heat oven to 375℉ (190℃).
For crust, combine flour and salt.
Cut in shortening with pastry blender (or two knives) until flour is just blended into form of pea-size chunks.
Add all of water.
Toss lightly with fork until dough will form a ball.
Press between hands to form 5 to 6 inch pancake.
Flour rolling surface and pin lightly.
Roll dough into circle and trim 1inch larger than upside-down 9 inch pie plate.
Loosen dough, carefully.
Fold into quarters.
Unfold and press into pie plate.
Fold edge under. Flute as desired.
For filling, cream butter and sugar in mixing bowl.
Beat in eggs, syrup and vanilla.
Stir in pecans.
Pour filling into unbaked pie shell.
Bake at 375℉ (190℃) F for 5 minutes.
Reduce heat to 325℉ (160℃).
Bake for 45 minutes or until knife inserted in center comes out clean.
Cool to room temperature before cutting.
Note: You can always make mini pecan pies or tarts if you wish.