Parmesan Sesame Twists
These Parmesan sesame twists are addictive, they are golden brown and crispy, parmesan, sesame and thyme leaves are delicious combination.
Directions
Preheat the oven to 425℉ (220℃) F.
In a small bowl, mix well the sesame seeds, Parmesan cheese, cayenne pepper, chili powder, thyme, and ¼ teaspoon salt.
Roll one of the pastry sheets to a 10x14-inch rectangular shape on a lightly floured surface.
Brush egg wash evenly on the sheets, and cut in half lengthwise to make two 5x14-inch strips.
Spread half of the cheese filling evenly over one strip and lay the second strip on top, egg wash side down.
Press the strips together with the rolling pin to fuse the two sheets. Cut the strip crosswise into 28 strips and ½ inch wide.
Lift a strip, twist it three times, and lay it on an ungreased baking sheet, pressing each end to keep the twists from unwinding during baking. Repeat with the second puff pastry sheet and the remaining filling.
Bake the twists until they're puffed, light brown, and dry looking throughout, about 12 minutes. Bite one for testing, make sure it isn't doughy in the center. Watch carefully, do not burn.
Cool them on a wire rack and serve immediately once they are cool enough to handle. Try to serve them within 2 hours.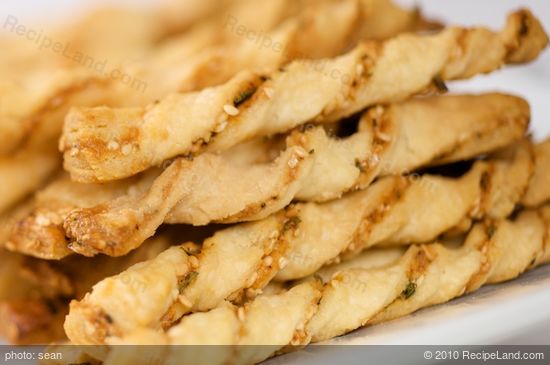 Nutrition Facts
Serving Size
44g
(1.6 oz)
Amount per Serving
Calories
223
62% of calories from fat
Trans Fat 0g
Sugars g
Vitamin A 1%
•
Vitamin C 0%