Open-face Grilled Portobello Sandwiches with Parsley-Basil Goat Cheese
Grilled marinated portobello is tender, juicy and flavorful. Place it on the sandwich bread, and a delicious meatless sandwich. Toss some fresh mixed greens, cherry tomatoes, and radishes with a light vinaigrette, serve it beside the sandwich, here you have a hearty and tasty meal.
Directions
Parsley-basil goat cheese:
Add goat cheese, parsley, basil, lemon zest, and garlic into small bowl, mix until well combined. Season with salt and black pepper. Set aside.
Assemble sandwich:
In small bow, mix together olive oil, soy sauce, garlic and red pepper flakes if desired until well combined.
Brush oil mixture on both sides of the prepared portobello mushrooms. Let sit for 5 to 10 minutes.
Preheat grill.
Place mushrooms on grill, cook for about 4 minutes until cap turns into brown and well marked; turn to the other side, and keep grilling for another 3 to 4 minutes.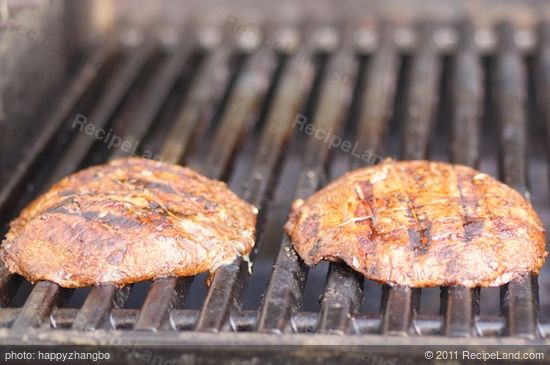 Rub one side of each slice with garlic halves, brush with olive oil, and sprinkle with salt and black pepper.
Grill bread, oil-side down, about 2 minutes. Spread same amount of herbed goat cheese on each slice, oiled side up.
Place one tomato slice on each of sandwich and sprinkle with salt and black pepper.
Place one grilled portobello on each sandwich. Drizzle with some olive oil if needed. Serve.
Nutrition Facts
Serving Size
81g
(2.9 oz)
Amount per Serving
Calories
325
89% of calories from fat
Trans Fat 0g
Sugars g
Vitamin A 14%
•
Vitamin C 19%