10 Minute Thai Basil Beef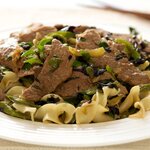 Gently spicy basil scents the juicy strips of beef in this classic Thai inspired main. Incredibly quick and easy. It's ready to eat in 10 minutes if your ingredients are prepped and wok or skillet is hot.
Metric
Ingredients
4
tablespoons

素油


peanut

3
each

大蒜


cloves

1
each

青椒




3
each

墨西哥辣椒


or other spicy pepper such as banana peppers or thai chilies if you can find them

*

1
pound

牛肉


steak

2
tablespoons

鱼露


Thai, optional

1
tablespoon

酱油,酱油




1
teaspoon

糖




¼
teaspoon

白胡椒


ground

*

½
cup

罗勒


fresh, chopped, Thai or purple basil if possible

*
Directions
Prep:
Peel and finely chop your garlic.
Seed the peppers and remove the membrane (the membrane contains little flavor and too much moisture) and cut into fine slices.
Pre-heat your wok or large skillet very hot.
Cook in 10 minutes:
Add the oil, allow to heat until shimmering.
Add the garlic, stir (5 to 10 seconds) then add the peppers. Stir quickly and constantly for 2 to 3 minutes. Add the thinly sliced beef.
Continue stir-frying for several minutes searing the beef strips to a medium-rare or your desired level of doneness. Too long and it will dry out.
Turn off the burner on your stove.
Add the soy sauce, fish sauce, sugar and white (or black) pepper.
Toss together and then remove from heat.
Serve immediately with rice or noodles (which of course you prepared ahead of time). Egg noodles work, rice or thin noodles would be more traditionally Thai.