Hawaiian-Stuffed Chicken Breast
Made this Hawaiian stuffed chicken breast for dinner, didn't have herb stuffing mix, so I sliced up 1 slice of whole grain bread into 1/2-inch cubes, tossed with a bit dry Italian herb mix and a bit olive oil...
Directions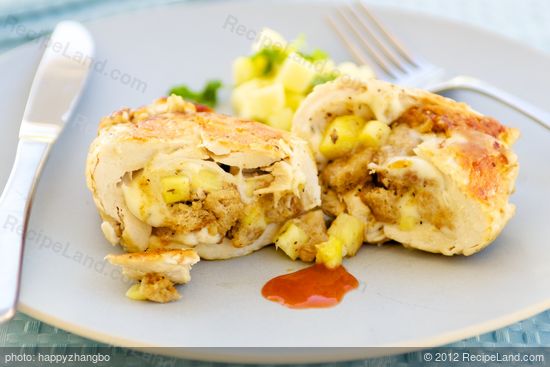 Preheat oven to 400℉ (200℃).
Heat the water in a pyrex or glass measuring cup in the microwave. After heating add butter and heat until it melts.
In a separate bowl add the dry stuffing, water and butter mixture, half the pineapple and some pepper.
Mix to blend, cover and let sit for a few minutes. Taste and check if it needs more pineapple. If it is too dry add some more pineapple. Cover and set aside.
Using a large zip lock or plastic bag, place each breast in the bag, remove air and pound each breast out to an even thickness, about ¼ of an inch in thickness.
Season each breast with a little salt and pepper if desired. Please ¼ of the stuffing mixture close to one end of the breast. Carefully roll up and secure the seam with a couple of toothpicks.
Season with salt and pepper.
Heat some butter in a skillet over medium high heat and brown each stuffed breast. You want them browned and seared on the outside but not cooked through.
Place the stuffed breasts on a greased baking pan.
Bake in a pre-heated oven for 30 minutes. If you wish, finish them under the broiler for one or two minutes.
Serve with Indonesian rice and a citrus dressed salad.
Nutrition Facts
Serving Size
186g
(6.6 oz)
Amount per Serving
Calories
230
37% of calories from fat
Trans Fat 0g
Sugars g
Vitamin A 4%
•
Vitamin C 5%