Grilled Hamburgers with Sour Cream and Herbs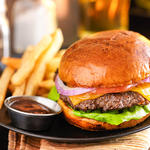 Grilled Hamburgers with Sour Cream and Herbs recipe
Metric
Directions
Thoroughly combine first 6 ingredients in medium bowl.
Shape beef mixture into 8 1-inch thick patties.
Cover and chill at least 1 hour or up to 8 hours.
Prepare barbecue (medium-high heat) Place burgers on grill.
Cover grill and cook burgers to desired doneness, about 4 minutes for medium rare.
Serve on buns with whatever topping ingredients you like.