Fluffy Blueberry Buttermilk Pancakes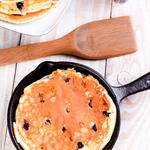 These flapjacks are leaps and bounds better than any other I've tested. The key is the buttermilk which makes them thick and fluffy and adds just the right flavor.
Metric
Directions
Don't over mix! Be sure to stir the mixture as little as possible.
Feel free to substitute frozen blueberries instead of fresh.
Sift together flour, salt, sugar, soda and baking powder.
In a separate bowl, combine egg, buttermilk and oil.
Add liquid ingredients to dry ingredients, mix as little as possible (only until just combined).
Gently fold in 1 cup of blueberries.
Heat a griddle to 375℉ (190℃). Or use a non-stick pan that you have pre-heated over medium heat.
Grease the cooking surface lightly.
Use ½ cup of batter to make each pancake.
Cook until edges of each pancake loses its gloss, then flip and cook a further 1 or 2 minutes until golden brown.
Serve with real maple syrup, although these pancakes are so good you may not even need the syrup.
If you don't plan on eating all of these at one sitting you can save the uncooked batter in the refrigerator for the next day. Cooked pancakes also freeze fairly well and can be reheated in a toaster.