Classic Chocolate Chip Cookies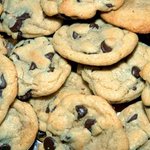 Not looking for another chocolate chip cookie recipe. These are just right!
Metric
Ingredients
2 sticks unsalted butter (room temperature)
1 1/2 cups brown sugar
2 large eggs (room temperature)
1 Tbsp. vanilla
3 cups flour
1/2 cup sugar
1 tsp baking soda
1/2 tsp salt
2 cups semi sweet chocolate chips (girardelli are the best)
Directions
Preheat oven to 350℉ (180℃).
Using an electric mixer, blend the butter on its own, until light and fluffy.
Add brown sugar and mix for 5 minutes
Add eggs, 1 at a time mixing with each
Add vanilla
Whisk dry ingredients in a separate bowl. Combine with wet ingredients.
Add chocolate chips
Bake cookies for 10 to 12 minutes. rotating cookie sheet half way through.