Chicken Potato and Spinach Salad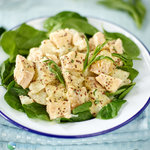 A chicken breast and potato salad with spinach, dressed with a creamy and tangy tarragon-mustard dressing.
Metric
Directions
Dressing
Combine the grainy mustard and the egg yolk in a large mixing bowl. Set aside.

Add the cream and (if using dried) tarragon to a small saucepan, over medium heat and bring to the boil. Remove from heat, let stand 30 seconds and rapidly whisk the cream and tarragon into the egg yolk/mustard. If you are using fresh tarragon, now is the time to add it.

While whisking rapidly; slowly drizzle in 3 tablespoons of olive oil. Whisk until emulsified. Set aside.
Potato salad
Dice unpeeled potatoes into 1-inch (2 ½ cm) pieces. Add to pot and just cover with cold water. Bring to the boil over high heat and cook just soft.

Drain. Add to a mixing bowl and pour over the white wine vinegar; cover and set aside.
Chicken
Season the diced chicken with salt and black pepper. Heat 1 tablespoon (20 ml) of oil in a non-stick skillet over medium heat. Add the chicken, cover and cook, about 5 minutes or until cooked through.
Alternatively used leftover diced chicken or turkey if on hand.
Serve
Gently toss the chicken, potatoes and spinach and dressing and serve with a healthy dose of fresh ground black pepper.