Beet & Walnut Salad
Directions
To prepare dressing, combine first 5 ingredients, stirring with a whisk.
Preheat oven to 375℉ (190℃) F.
To prepare salad, leave root and 1 inch of stem on beets; scrub with a brush. Place beets in an 11 x 7–inch baking dish ; add ½ cup water.
Cover and bake at 375° for 35 minutes or until tender. Drain and cool.
Trim off beet roots; rub off skins. Cut each beet into quarters. Place beets in a small bowl; drizzle with 1 tablespoon dressing.
Place salad greens on a large platter; sprinkle evenly with ¼ teaspoon salt. Drizzle remaining dressing over greens.
Top with beets, walnuts, cheese, and chives.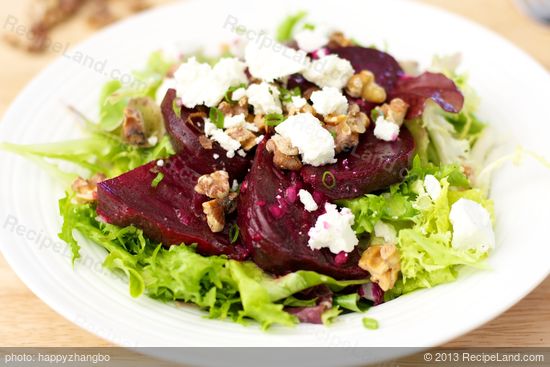 ---
---