Lemon Cashew Rice (Nibu Daar Pullao)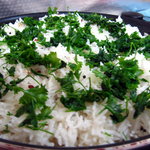 This delicious side dish made of cashew nuts and basmati rice is a great companion to any meal.
Metric
Directions
Place rice in a strainer and rinse with cool water until water runs clear. Set aside.
In a large saucepan, sauté mustard seeds in oil until they begin to pop. Add urad dal and sauté until dal turns golden brown, about 2 minutes. Add rice and cashews. Sauté for 2 minutes over medium heat. Stir in water, lemon juice and salt. Bring to a boil. Reduce heat, cover and simmer for 15 minutes. (Do not remove cover while cooking.) Remove from heat and let sit for 5 minutes.
Fluff with a fork, garnish with cilantro and serve.