Garlicky Roasted Fingerling Potatoes
The aroma from roasting garlic and rosemary makes everyone who smells it wants to try it. If you don't have fingerling potatoes, just use russet potatoes, and cut into even thickness wedges or strips. It will be as delicious!
Directions
Preheat oven to 450℉ (230℃) F. La large shallow baking dish with olive oil or cooking spray.
Wash and scrub potatoes and cut large ones in half length wise. In a large bowl, toss the potatoes with garlic, olive oil, rosemary, pepper and salt until evenly coated.
Put potatoes in shallow baking dish with sliced ones skin side down. Bake until potatoes are tender about 25 to 30 minutes. Season with more salt and black pepper if desired, and serve.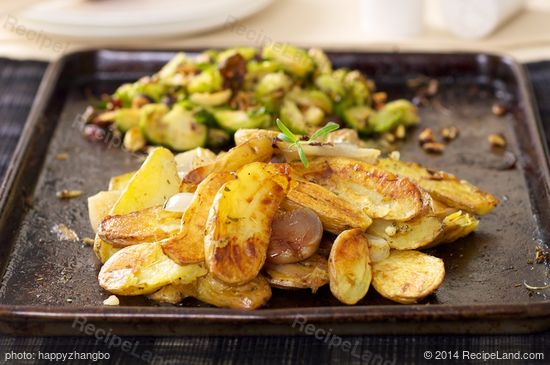 Nutrition Facts
Serving Size
169g
(6.0 oz)
Amount per Serving
Calories
196
26% of calories from fat
Trans Fat 0g
Total Carbohydrate
11
g
11%
Sugars g
Vitamin A 0%
•
Vitamin C 25%