Clark Gable Pancakes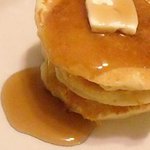 These are great. Add a little more milk, if you like thinner pancakes, and yes, the amount of baking powder is correct.
Metric
Directions
In a medium bowl, stir together the egg, milk, and oil.
Add flour, baking powder and salt, mix until smooth.
Pour ¼ cup of batter for each pancake on hot, oiled griddle.
Turn when golden brown.
Serve hot.