Bunny Face Easter Cupcakes
These Easter Bunny Face Cupcakes are so cute, and cakes are so moist, coated with vanilla frosting and coconut flakes, enjoy these pretty bunny face cupcakes!
Directions
Spoon 2 tablespoons of vanilla frosting into a small ziplock bag.
Frost cupcakes with remaining vanilla frosting.
Roll tops of frosted cupcakes in coconut to coat well.
Put pink sugar in a small bowl. Using scissors, cut large marshmallows in half crosswise.
Press cut sides of marshmallows into pink sugar, coat evenly to make ears.
Insert a pretzel stick into 1 short end of a marshmallow ear.
Insert remaining part of pretzel-stick into cupcake to let ear stand up.
Repeat with another pretzel stick and marshmallow ear, place second marshmallow ear next to first.
Repeat with remaining marshmallows and pretzels, until every bunny has two ears.
Snip a small corner from ziplock bag with vanilla frosting.
Using scissors, cut mini marshmallow in half crosswise to make cheek.
Pipe small dots of frosting and attach the mini or regular M&M eyes, heart-candy nose and cheeks.
Cut licorice into 1½-inch pieces and insert as whiskers.
Don't let licorice become too soft, then it will be hard to insert into the cupcakes.
Repeat with remaining cupcakes.
Storage in an air-tight container.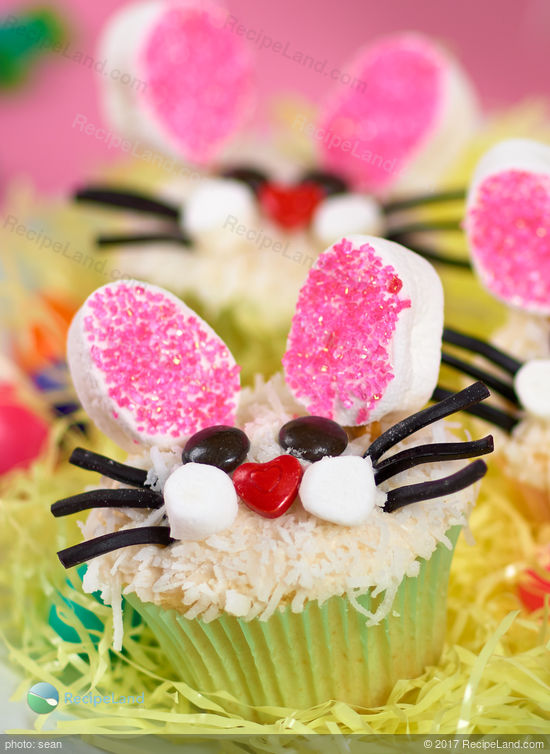 Nutrition Facts
Serving Size
71g
(2.5 oz)
Amount per Serving
Calories
248
22% of calories from fat
Trans Fat 0g
Total Carbohydrate
16
g
16%
Sugars g
Vitamin A 0%
•
Vitamin C 0%