Asparagus Chicken Pasta with Parmesan
This easy and delicious dish is an excellent candidate for a busy weeknight meal. It doesn't take long to make, and it's well balanced on both flavour and nutrition.
Directions
Bring a large pot of salted water to a boil. Add the pasta, and cook for 10 to 12 minutes or until desired consistency.
Once the pasta is cooked. Reserve 1 cup cooking water, then drain it and return to the pot.
Meanwhile, heat ½ tablespoon olive oil in a large nonstick skillet over medium heat until hot.
Brown the chicken strips until no pink spot remains and the chicken strips are nicely browned, about 4 minutes on each side. Season with salt and black pepper. Transfer the cooked chicken into a bowl, and cover to keep warm.
Add the remaining 1½ tablespoons of olive oil to the same skillet over medium heat until hot. Add the asparagus, stirring often, and cook until the asparagus are tender and brightly green, about 4 minutes.
Stir in the garlic, and cook for another 1 minute until very fragrant. Season with salt and black pepper to taste. Add the cooked chicken, asparagus, and 1 cup Parmesan cheese to the pasta pot.
Pour some pasta cooking water to thin the dish a bit, and stir with a wooden spatula gently until well combined. Add more cooking water until it reaches desired consistency if needed.
Season with more salt and black pepper if needed. Divide the dish among the serving plates. Sprinkle with remaining Parmesan cheese on top.
Serve warm.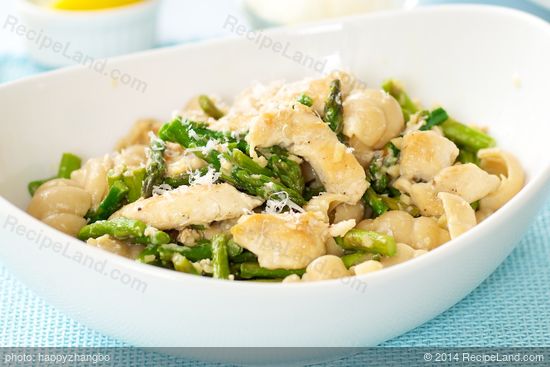 Nutrition Facts
Serving Size
397g
(14.0 oz)
Amount per Serving
Calories
627
32% of calories from fat
Trans Fat 0g
Total Carbohydrate
15
g
15%
Sugars g
Vitamin A 21%
•
Vitamin C 18%